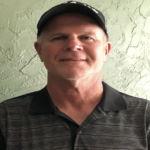 Ken Rose
Boys and Girls Golf Coach
Coach Ken Rose began his teaching and coaching career 23 years ago at Worley Middle School in the Mansfield ISD. Rose has spent the last 22 years teaching and coaching at Bowie, Seguin and Martin High Schools in the Arlington ISD. During this time, he has coached Football, been a Head Coach in Baseball, Cross Country and Golf. Coach Rose is certified in Social Studies Composite, Health and Physical Education and has taught World Geography, most of his career. Rose is a graduate of the University of Texas at Arlington with a Bachelor of Arts in Physical Education. He has been married to his wife Michelle for 37 years and has one daughter Samantha. When not at school Coach Rose enjoys working out, playing golf and being with family.
"I am extremely excited to have the opportunity to open up Jordan High School and look forward to working with the faculty and students in creating an outstanding golf program and school".
Heather Nelson
hrnelson@gmail.com
(281) 914-7490
When player packages or other sign ups are available, they will appear below this text on this page.