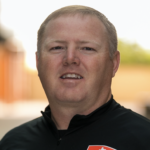 Jason Meekins
JasonEMeekins@Katyisd.org
JJason Meekins has served as the Head Boys' Soccer Coach at Ridge Point High School in Missouri City for the past 3 years (2017-2020). Meekins took over a program that finished 4-11-3 in 2017. In his first year at Ridge Point, his team finished 13-6-6 and qualified for the UIL playoffs. During the 2019 and 2020, his Ridge Point program won the district championship at the varsity, junior varsity and freshman levels in both seasons. Meekins was unanimously chosen as the District 20-6A Coach of the Year for the 2019 season. His overall coaching record at Ridge Point is 49-15-10.
Prior to Ridge Point, Meekins served as an assistant coach at Tompkins High School (2014-2017). There, he helped the boys' soccer team to a regional semi-final berth in 2016. His sub varsity squad won the district championships in 2016 and 2017. Coach Meekins began his career as an assistant coach at Brenham High School in 2010. He helped coach 2 All-Americans, numerous all-region/all-state players and the teams he assisted made the playoffs every year. Meekins was named the TASCO Region 3 Assistant Coach of the Year during the 2011, 2013 and 2016 seasons.
Meekins earned a bachelor's degree in Finance from Texas A&M University in 2005. Upon graduation, he worked for Ryan, Inc. in Dallas as a Sales & Use Tax Consultant for three and half years before moving back to the Houston area to get into coaching and education.
Coach Meekins is married to Natalie, who currently teaches at Seven Lakes JH. Together they have one son, Grady and another child due in early May.
Darlene Armijo
darlene_armijo@yahoo.com
(865) 924-9435
When player packages or other sign ups are available, they will appear below this text on this page.